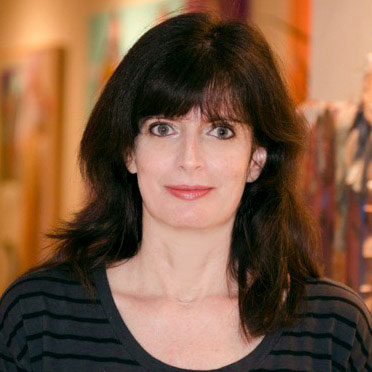 In 1989, I started Hope Lane Design in order to provide my clients with creative that was both effective and intelligent. From its inception, my mission has been to communicate clearly, work closely and personally with my clients, and establish long-term relationships with them based on trust and honesty.
Core competencies in print, direct response and online creative, have allowed me to create successful marketing for industries that range from banking to cruising, dentistry to not-for-profit.

My job is to tell my clients' stories with impact. To do that, I work closely with them, learning about their business and finding just the right message to generate results. That may mean creating anything from a website or banner ad campaign to a print ad or an annual report. Whatever the channel, my goal is to keep the branding strong and consistent.
When it comes to your project, size doesn't matter. Whether you need a national ad campaign for a blue chip corporation or a logo for a small startup, if it's important to you—I'll give it the dedicated attention it deserves.
ABOUT HOPE LANE
First and foremost, I am a designer, a conceptualist and a creator. I have a passion for delivering creative that speaks to the viewer and delivers impact for the client. I approach a problem strategically, and use my extensive professional experience to get the job done.
As principal of Hope Lane Design, a creative boutique, I create and produce marketing and communications for financial clients like Commercebank, and BankUnited, for high-end cruise clients like Silversea Cruises and Renaissance Cruises, for insurance clients like CareFlorida, Humana, and for a range of other clients including: Pediatric Associates, The Sclar Center, The Pankey Institute and The Mark J. Gordon Foundation.
During my experience as co-owner and creative partner for Results Partnership, a full-service agency, I managed creative for national multi-channel marketing programs for American Express that spanned the country from cause-related marketing in Seattle and New Orleans to travel promotion with the State of Florida. I also developed creative for Great Florida Bank and Sea Dream Yacht Club, further rounding out my expertise in banking and travel.
My previous positions at McCann Erickson and Grey in New York City, provided me with the opportunity to work for such major clients as American Express, General Motors, IBM and Chemical Bank. I created national award-winning strategic marketing for them that enhanced customer retention and increased sales.
My awards include the Caples Award, the New York Addy, as well as the American Express Chairman's Award and the Florida Printing Association Award.
Services
Concept, Design, Copy, Art Direction, Art Production, Photography Supervision and Selection, Printing Supervision, Lettershop Supervision, Website Planning and Setup, Interface Design, HTML, CSS, Flash
Types of Projects
Advertising, Annual Reports, Brochures, Corporate Identity, Direct Mail, Email Campaigns, HTML Newsletters, Illustration, Logos, Online Ads, Mobile Advertising, Posters, Sales Collateral, Signage, Stationary Systems, Web Banners and Websites
Client Experience
American Express
American Express Travel
American Welding Society
Andersen Consulting
Banco Mercantil
BankUnited
Barnett Bank
Care Florida
Chemical Bank
ClaimCard
Commercebank
Cupcakes Changing the World
DA Group
Dale Sorenson DDS
Dreyfus Funds
DRG
FPL
Food Bank of Western NY
General Foods
General Motors
Great Florida Bank
Humana
IBM
Irwin Becker Inititatives
Key Biscayne Yacht Club
Kron
Liz Bieler
Mark J. Gordon Foundation
The Miami Herald
The Pankey Institute
Pediatric Associates
Renaissance Cruises
The Sclar Center
SeaDream Yacht Club
SHAPE
SilverSeas Cruises
Sterling Reputation
Sony
Vintage Reign